FAQs
How do I use the CannabinOil CBD?
We have a separate page for this - click here
What's the difference between the balms?
This is a regular question and we can answer by this table.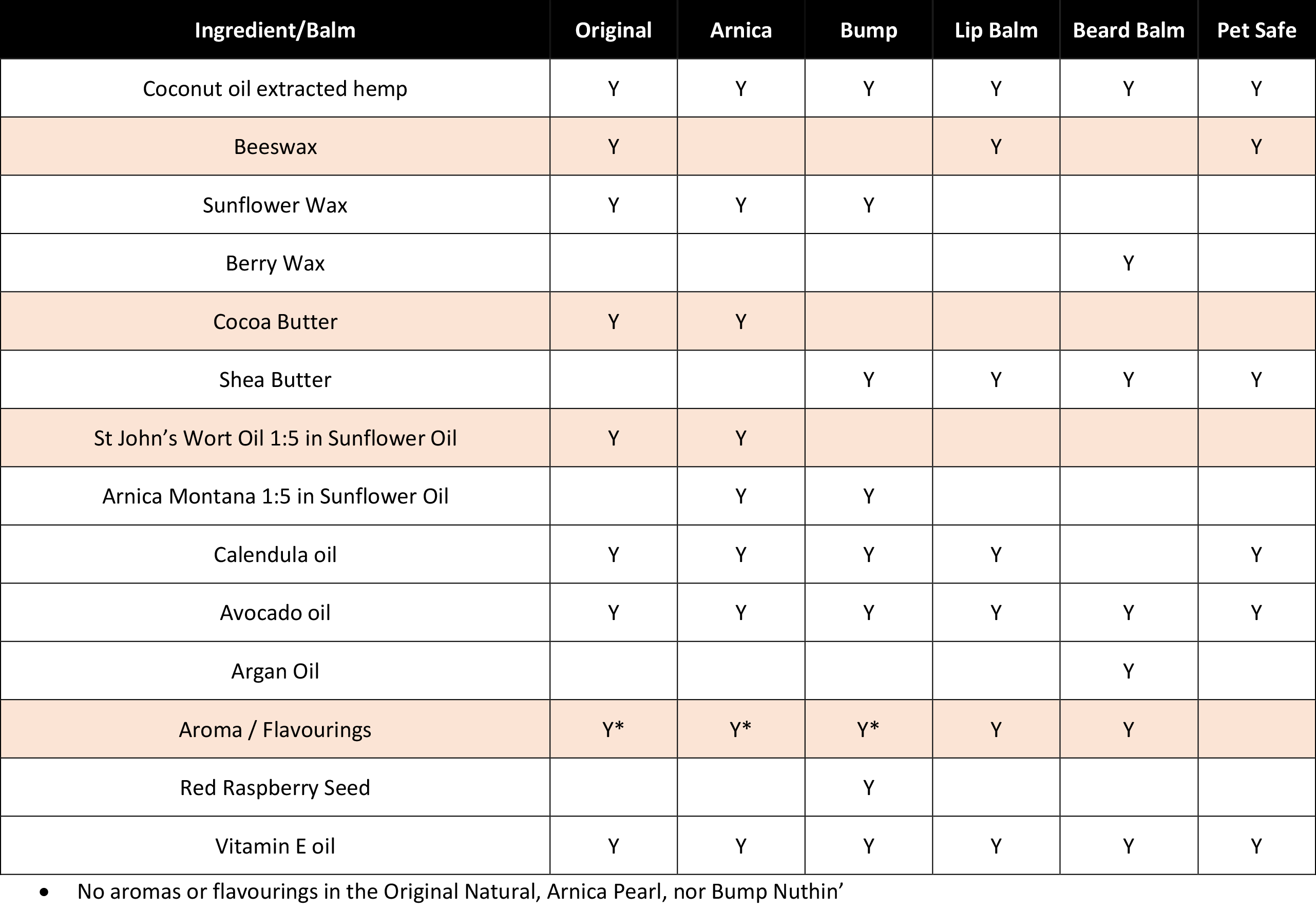 Then we have different aromas: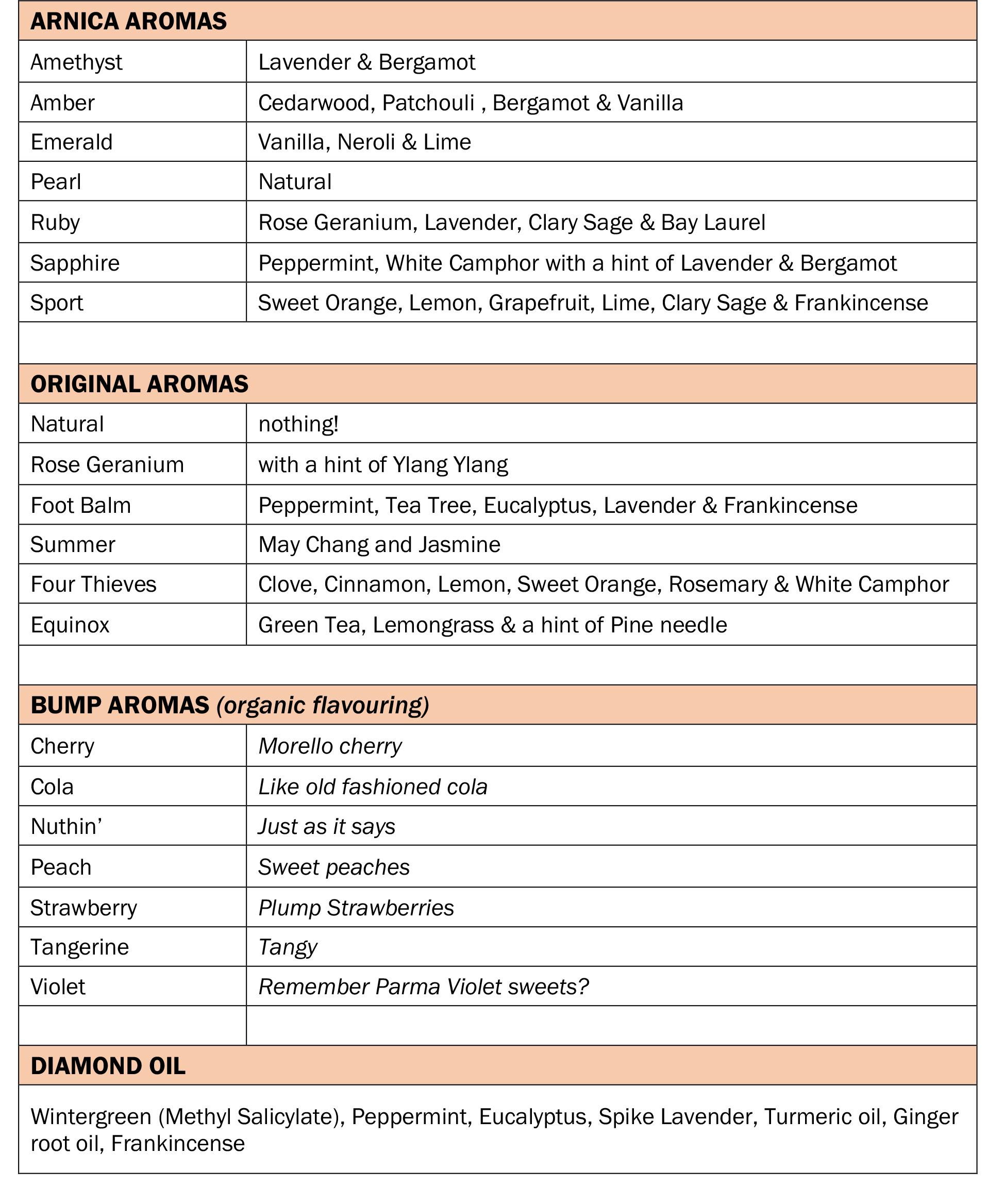 Samples
Yes we do sample packs of FEG balms - they come in our three varieties - Original, Arnica and BUMP.
Original Sample Pack - 4 Balm samples and some tea.
Arnica Sample Pack - 6 Balm samples
Bump Sample Pack - 7 Balm Samples
These packs cannot be split. If you would like a sample of our loose tea, please send us a stamped addressed envelope and we'll get a two portion bag to you. click here to go to the samples page
Why can't you give me advice on what to use for my condition?
We can't make medical or medicinal claims about our products. The MHRA has very strict rules about what we can and can't say, and would come down heavy on us if we even mentioned certain words. There are groups on social media that can help. CBD users UK is an unaffiliated user support group
How do I use the balms?
Gently rub the balm with the pad of your index finger or scrape a little out using your finger nail and gently apply to the skin and massage. The balm will spread with the warmth of your skin.
How soon will I feel results?
Some people feel noticeable benefits after 20-30 mins, other people might take a few applications.
If you're trying the samples, allow a few applications - don't just write us off after one application.
Is it just for Elbows?
No, you can use this externally, on any part of the body (but avoid the eyes and genital areas).
Reactions and adverse effects
If you have a reaction, contact us and we'll find out what exactly it is. If you're known or likely to be reactive to any of our ingredients, don't use the product. Social media is good but we think that contacting us directly is your first step.
How long will each balm last?
The shelf life of each balm is about 15-18 months. We add Vitamin E oil to help preserve it.
I've received my balm and it looks odd
Our balm 'blooms' in cold conditions, so if it's been a cold van, sorting office, distribution hub or cargo hold, if might look cloudy on top. The cold wont affect the make up of the balm so just warm it up with your finger.
My Arnica stick has come apart as I've opened it
This is simple to rectify. Just pop the lid back on and use the palm of your hand to warm the of the lid for a few minutes. Gently unscrew the lid and check if this has released the stick of balm. If not, retry. Any problems, just give us a call.
Shelf Life
About 12 months based on the oils, butters and wax we use.
How do I make the loose tea?
You can use a strainer or a teapot. Add one heaped teaspoon per portion. Add boiling water and allow to steep between 5-15 mins depending on how strong you like your tea.
Can I use milk with the tea?
Yes you can and it should help the cannabinoids, terpenes and flavonoids in the tea, to attach to the fats in the milk.
How do I use the salts?
Using the bag ties, hang the bag of salts under the tap and run the water over and through the bag. Use the entire bag as this is measured for a full bath. This is a one use product.
Can I use the salts without the bag?
Yes, but you will end up with a lot of vegetation and leaf in the bath.
Is St John's Wort dangerous to use with certain medications?
The St John's Wort we use is 1:5 in sunflower oil extraction. This is as a massage oil, therefore topical use. So, for example, 6g of oil, would have 1g of St John's Wort within it. The clinical trials that showed contraindications occurred when STJ was taken orally/internally at 300mg three times a day. We have a blog on St John's Wort here
Do you test on animals?
Absolutely NOT! We also source companies who do not test on animals too. Most of our ingredients are organic too.
I've not received any notifications about my order
Have you checked your email spam folder? Sometimes our emails get stuck in your spam as your privacy or security settings are set to high. It might also be that there's an error in the email you typed in to your account. This can be changed in 'My Account' and you will also see the status of your order there too.
Do you dispatch post every day?
No. We are a small company and the workforce have production and packing days. These are so we can fulfil orders. We dispatch three days a week. This is in progress as we are able to employ more staff.
At busier times of the year we will be bringing in staff to help.
I want to return my items and get a refund.
We will refund you the cost of any unopened product but will hold the price of the postage, as this service has already been provided.

Trade and B2B accounts
If you have a customer account with us already, call us to discuss 01295 758591
If you don't have an account, please apply here then we'll call you.
Website issues
Please feel free to tell us about any technical issues you think might be hindering your experience. You can do that by email to info@fegbalm.co.uk or by chatting with one of our chat operatives (bottom right hand corner).
Forgot my password
Go to 'my account' and you'll see Get a New Password in the left hand column
3 for 2 Offers
When we run 3 for 2 offers, they can be combined with any other 3 for 2 offers website wide. This means that by choosing three items, the third or cheapest will be free. If you choose the same item, you will have to put three items into your basket as the system won't automatically add the third.