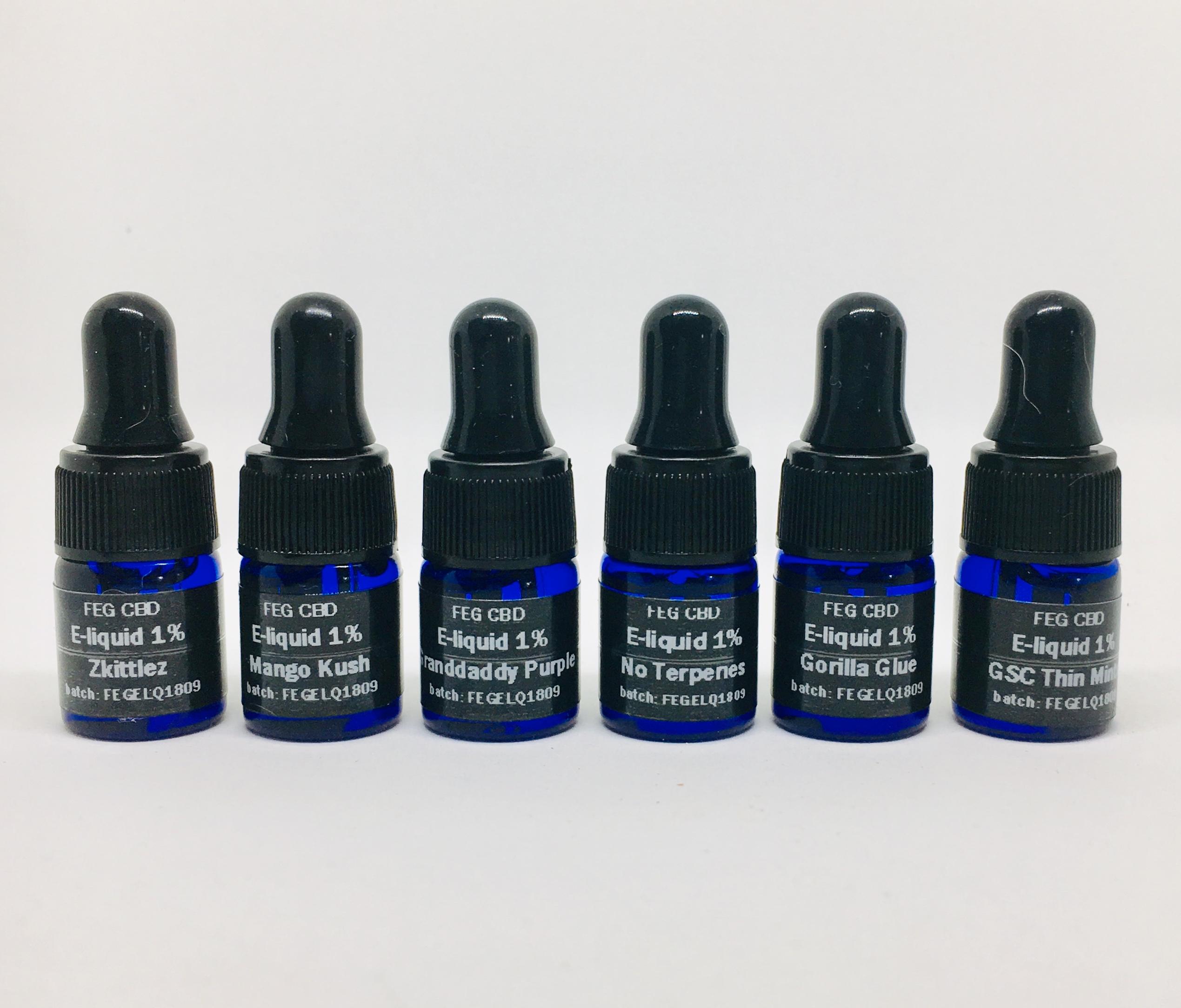 CBD Vape Eliquid - 20mg/2ml Trial Size
Fiddler's Elbow Grease CBD Vape
FEGV078
| | |
| --- | --- |
| Quantity - | Price |
| 0 + | $0.00 |
Description

Ingredients

Compare

How to Use
Handy trial size available in 5 terpene profiles (see Compare):
Select the profile from the drop down list below and add to basket.

Why not try all 5 with our special trial pack? - click here

MCT is incredibly versatile diluent - 100% natural MCT (medium-chain triglyceride) is one of the healthiest essential fatty acids available on the market and can increase the bioavailability of the cannabinoids and terpenes present in a product. It's colourless and tasteless which means it won't affect the taste of your e-liquid. Particularly important when terpenes are present, allowing you to appreciate all the subtle nuances of the flavours and aromas.
Guaranteed content  - we have 3rd party independent lab reports available for your security and peace of mind.


Not to be used by or sold to anyone under the age of 18
Approximately 10mg per 1ml.
Ingredients: 20mg of Cannabidiol (CBD) in MCT. 
| | | | |
| --- | --- | --- | --- |
| Terpene Profile | Fragrance | Effect | Ideal for |
| Granddaddy Purple - Indica Profile | Sweet, grape/berry, floral, earthy | Soothing, peaceful and feeling at ease with the world | Evening use or for lighter use in the daytime |
| Mango Kush - Indica profile | Tropical. Sweet, tangy with an aroma of real mangoes and a hint of pine. | Soothing, happy, uplifted. |  Daytime and evening use. |
| Zkittlez - Indica Profile | Sweet, fruity, berry, herbal and tropical (like Skittles) | Motivating and focused | Daytime and evening use |
| Gorilla Glue - Hybrid Profile | Earthy, pine, floral, citrus | Warming and soothing for mind and body. | Evening use or a chilled afternoon |
| Girl Scout Cookies, Thin Mint - Hybrid Profile | Sweet, slightly minty taste on the exhale | Peaceful yet uplifting | All-day use |
Using the pipette, fill the tank with our eliquid. 
Stand for 5 - 10 minutes to allow the coil to absorb the fluid.
Inhale and hold for a few seconds, then exhale.
Repeat 2-3 times and see how you respond.

Allow 20-30 minutes for it to reach full effectiveness and repeat as necessary.

It can be tempting to puff away to begin.
Slow and steady is best, increasing gradually until the desired results are achieved.

Once opened store upright in a cool dark place, replace closure tightly after use.
Keep out of reach of children
This product is not intended to diagnose, treat cure or prevent any disease