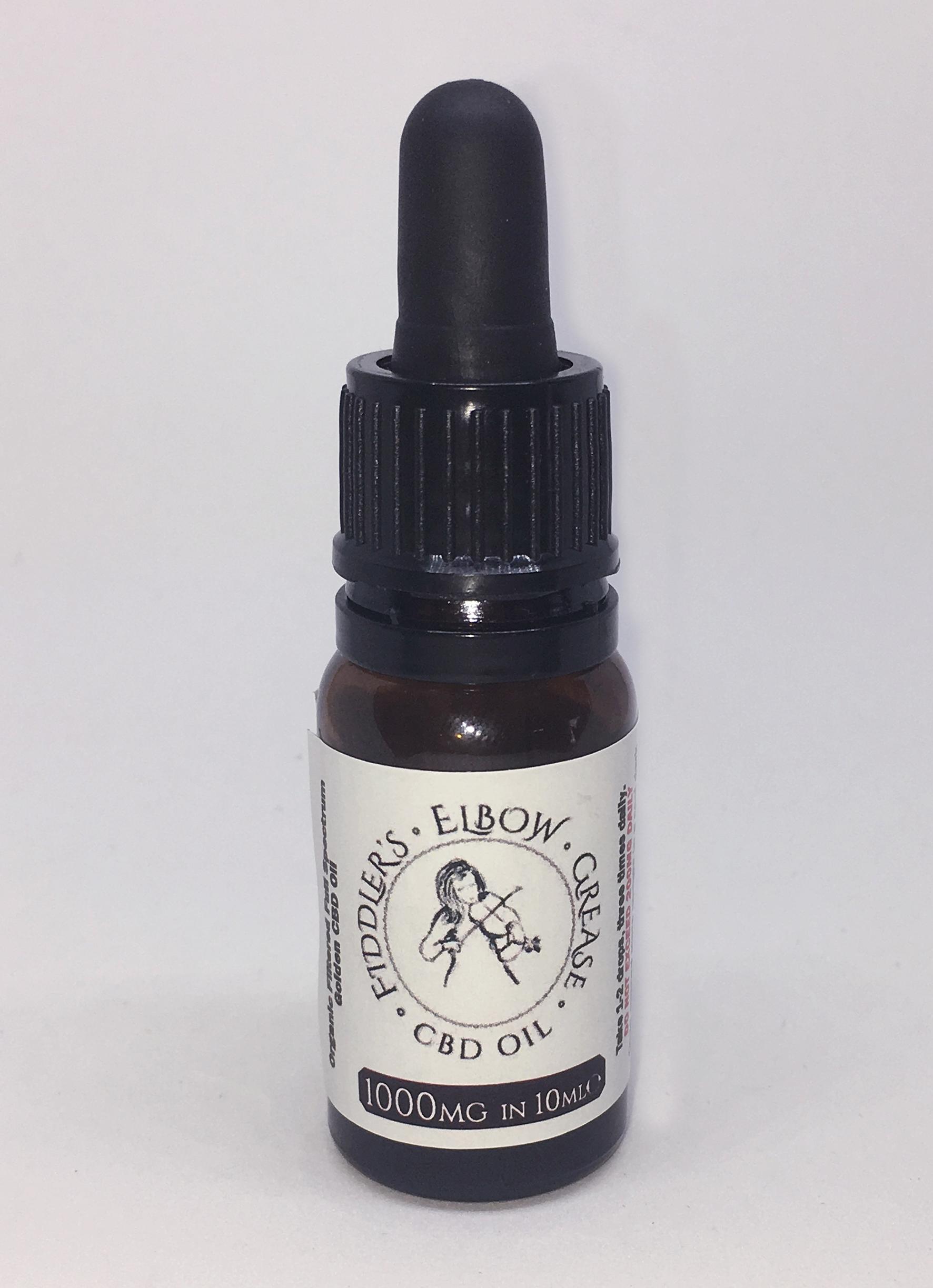 CBD Oil - 1000mg (10%)
Fiddler's Elbow Grease CBD Oil
FEGC066
Description

Ingredients

How to Use

Lab Reports & Safety Data
AVAILABLE NOW
Filtered Full Spectrum Golden CBD Oil - approximately 5mg per drop and 200 drops per bottle.
Contains a minimum 1000mg of Cannabidiol (CBD) and other naturally occurring cannabinoids such as CBDa, CBG, CBC, CBDV, and Beta-Caryophyllene
This lovely nutty mild-tasting oil is great for those of you who really struggle with the flavour! 
Take 1-2 drops, three times daily.
Do not exceed 200mg daily
Once opened store upright in a  cool dark place, replace the closure tightly after use.
Keep out of reach of children
This product is a food supplement and is not intended to treat, cure, diagnose or prevent any disease
1000mg of Cannabidiol (CBD) and other naturally occuring cannabinoids in hempseed oil. 
Contains:
Essential fatty acids: 
omega-6 fatty acids including linoleic acid, gamma-linolenic acid, omega-3 alpha-linolenic acid. 
Hemp seed oil provides 9kcal/g.
Shake bottle well before use. 
Start with 1 - 2 drops, taken 2 or 3 times daily
Place drops under the tongue or down the side of the gum and cheek.
Hold for approximately 60 - 90 seconds, then swallow.
The 'sublingual method' (under the tongue) is one of the most effective ways to take CBD as it absorbs into the bloodstream via mucous membranes, directly. 
Adding one drop to each dose weekly until the desired response is achieved then maintain the amount from this point.  
Do not exceed the 200mg food supplement daily limit. 
It can be helpful to look in a mirror when administering drops, place them on a teaspoon or the back of your hand for accuracy.
Food supplements should not be used as a substitute for a varied and balanced diet and healthy lifestyle.
Always consult your doctor if you are pregnant, lactating, taking any medication or have medical conditions.
Suitable from 18 years.