We love making balms and mixing aromas so much, that we wanted to share the experience!
The idea came about last year when I invited young Toby Lee, a fine and highly talented guitarist (and former student) to come to the unit and have a go at mixing his own aromas. Of course, Toby is no stranger to FEG. He loves the smells and has been an advocate of aromatherapy since a baby! His aroma was a patchouli, ylang ylang and lavender mix.
Then just before Christmas 2018, I spoke with a good friend of mine Sarah. She has three kids, 2 gorgeous girls and a giggly little boy. She spoke about the 'lack of things to DO' over Christmas, and how she found it difficult to do something different during that time. I offered her an afternoon of 'Potions' with the girls and she jumped at the chance!
Primarily, it was going to just be the girls, but young Luther wasn't up for staying with dad so I agreed that with mum's help, he'd be welcome to make something too. From the onset, I laid down the rules:
No running
No taking things away from the table
Safety first - gloves, goggles etc
And not to put anything in their mouths unless they were told to do so.
They were glowingly excited when I brought the flasks of oils to the bench and put the scales, beakers, jugs, bottles and tins down in front of them. We even labelled their bottles with their names.
Then came the science and maths - identifying aromas, counting drops, weighing salts, waxes, butters and oils, dividing, multiplying and addition. They vigorously mixed salts and oils, as only kids can, then filled their tins with 'Room Diffuser Salts'. Their balm bases were weighed, quite accurately and with little spillage, to be sent to Jon who did all the hot stuff, and filled their tins.
After two and a bit hours (with a small snack break in the middle), the kids left feeling accomplished brandishing their little bags of goodies, they'd made themselves.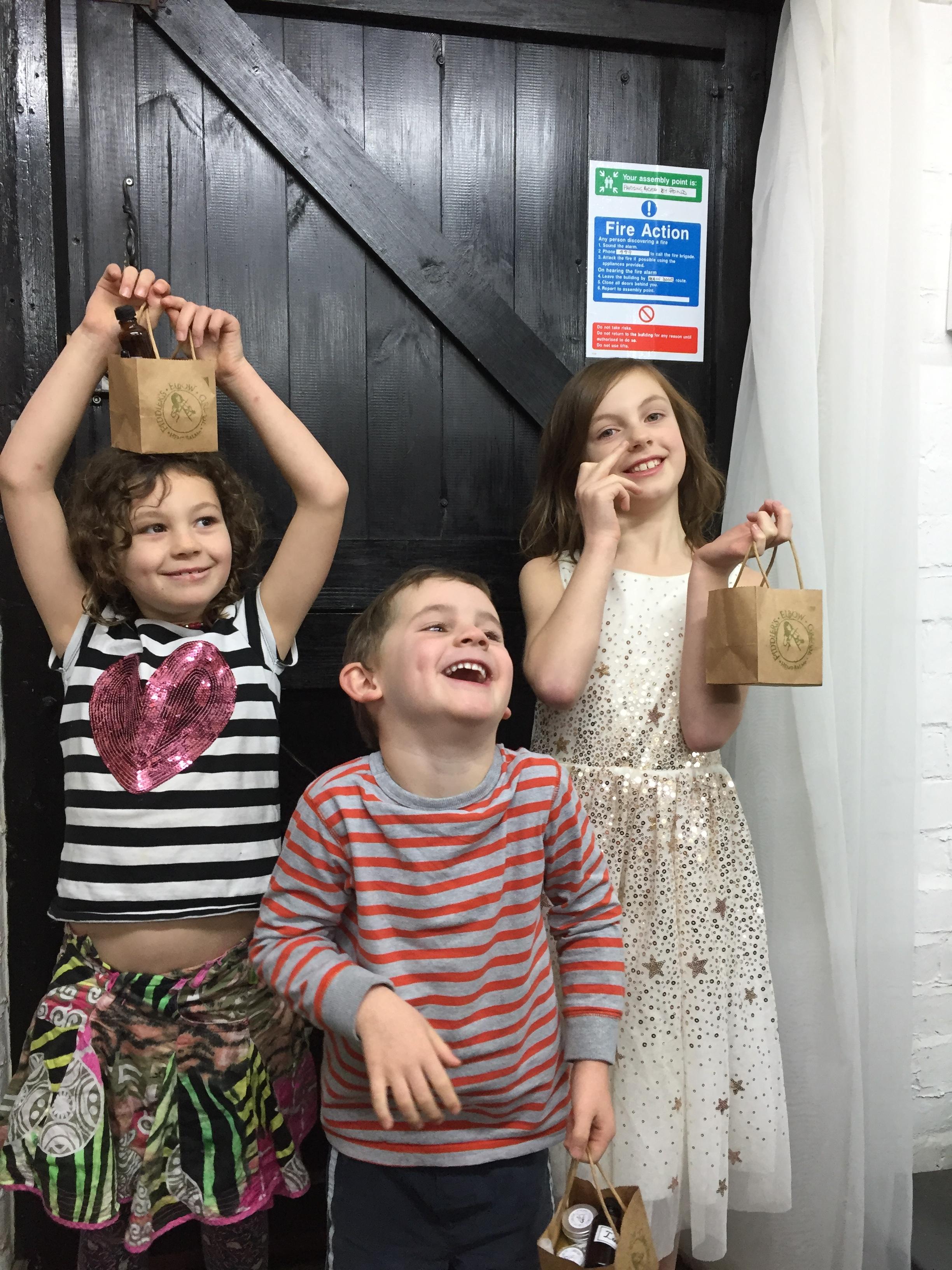 So after much thought and encouragement from a few more friends, Potions Parties are now a thing! We can give a party for up to 12 children at your home. We supply pretty much everything - apart from the food. We already have a few parties booked in for 2019 and are looking to train a whole new batch of young witches in the art of self sufficiency, safety and success in making balms and aromas.