Jake is Sian's next door neighbour. He's been helping Sian for a couple of years on events and odd jobs. Jake is 13 years old and at the local comprehensive school. He started working for FEG back in July and has embraced the business.
"I am the Dispatch Boy! I pick, pack and dispatch your orders. Sian has allowed me to access the shop online on my phone so that I can see the orders coming in and send the invoices to print from anywhere! When I get to the workshop, I check your orders and pick them. I then sort them to create the postage labels - which get stuck on the envelopes or boxes and sent to you!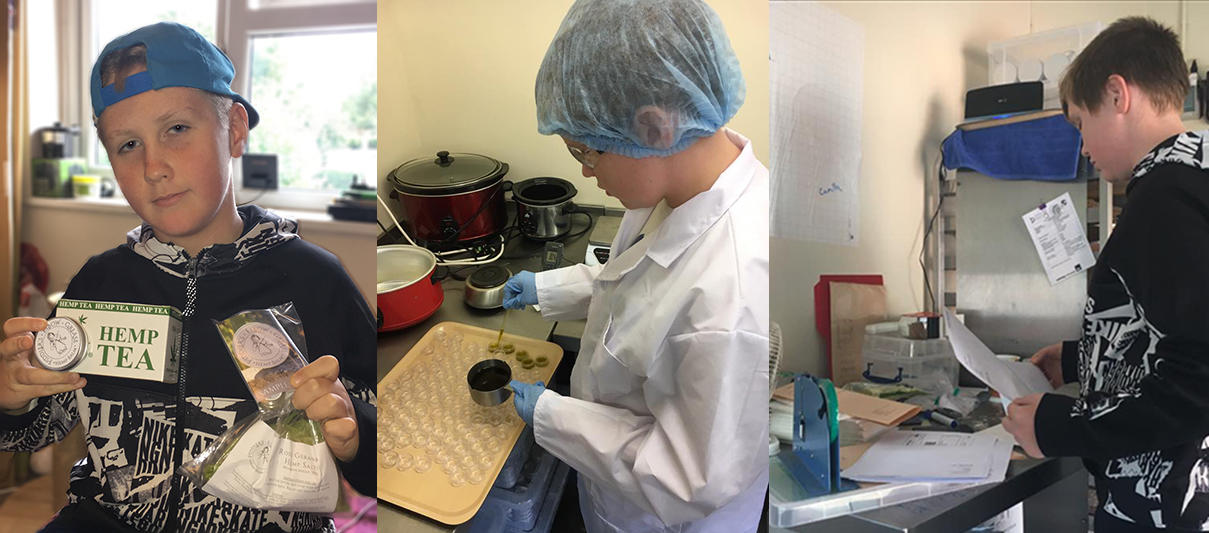 "Other jobs I have to do are important too. Labelling sample pots and product can be repetitive but I can listen to my tunes and just get on with it. I also make up all the sample packs, bag tea, make bath salts and put them in the green and pink voile bags. I smell quite nice when I get home because of all the oils and hemp in the workshop.
"I felt amused when I had to wear the hairnet. The glasses were ok and so were the gloves. The white jacket made me look like a science teacher! Sian let me fill a hundred sample pots. I wanted to be accurate but it's trickier than it looks as the balm sets quite quickly.
"I would like to earn my own money so that I can buy a new bike. I enjoy working for FEG because I am learning and developing skills that will be transferable in the future. Sometimes I cycle into Cropredy. It's 9 miles from home but I enjoy taking the canal path as it is safer and flatter than the main A361 through Banbury."


If you haven't tried Fiddler's Elbow Grease Hemp Balm before then why not try our sample packs? There are three ranges to choose from - just click here to find out more
Original 4 pack - Rose Geranium, Natural (unscented) Foot and Lip Balm
Arnica 6 pack - Pearl - (natural), Emerald, Ruby, Sapphire, Amethyst and Sport
Bump 7 pack - Cherry, Cola, Nuthin', Peach, Strawberry, Tangerine and Violet

Alternatively, all varieties are now available as single samples to try! - click here: