Advent calendars are a sign that Christmas is coming, but opening a little numbered door, or in our case pot to reveal a surprise is an idea that everyone – religious or not – can get behind. Here's a brief history of Advent calendars.
What is Advent?
Advent is the four-week period beginning on the Sunday nearest the feast day of St. Andrew the Apostle (November 30) through the following three Sundays. Historians estimate that Advent, which derives from the Latin word for coming, has been celebrated since the fourth century. The period originally began as a time for converts to Christianity to prepare for baptism, but is now more commonly associated with the anticipation of the anniversary of Christ's birth on December 25.
Origins
Advent calendars typically don't follow the period of Advent described above. Instead, they begin on December 1 and mark the 24 days before Christmas. Today, most Advent calendars include paper doors that open to reveal an image, Bible verse, or piece of chocolate. The tradition dates to the mid-19th century, when German Protestants made chalk marks on doors or lit candles to count the days leading up to Christmas.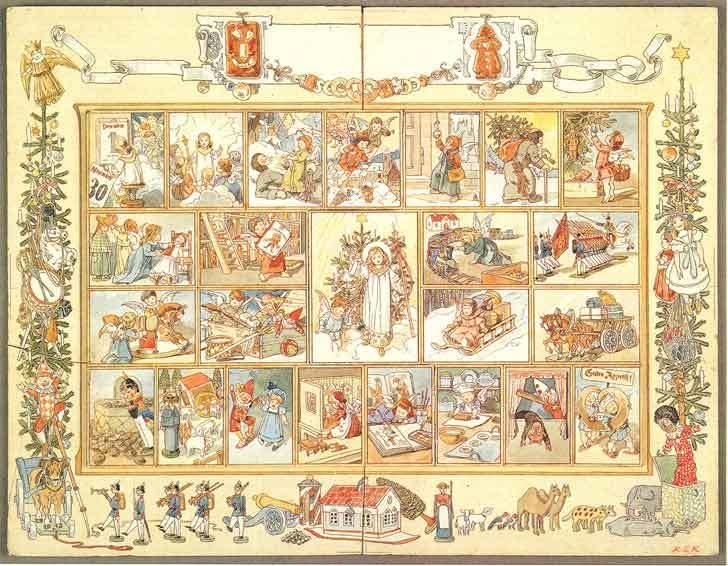 Gerhard Lang is widely considered the producer of the first printed Advent calendar in the early 1900s and around the same time, a German newspaper included an Advent calendar insert as a gift to its readers. Lang's calendar was inspired by one that his mother had made for him and featured 24 colored pictures that attached to a piece of cardboard. Lang modified his calendars to include the little doors that are a staple of most Advent calendars today and they became a commercial success in Germany. Production stopped due to a cardboard shortage during World War II, but resumed soon after.
Dwight D. Eisenhower is often credited for the proliferation of the Advent calendar tradition in the United States. During his presidency, Eisenhower was photographed opening an Advent calendar with his grandchildren and the photo ran in several national newspapers.
The Most Expensive Advent Calendar
This was credited to have been available through Harrods and four-foot, Christmas-tree shaped structure carved from burr elm and walnut wood. Each of the £20,000 calendar's 24 compartments housed a piece of organic chocolate from Green & Black, with proceeds going to support cocoa farmers in Belize.
The World's Largest Advent Calendar
A building in Gloucester, King's Square was transformed into the world's largest Advent calendar in 2009. The interactive calendar, which turned one of the city's major eyesores into a giant, ribbon-tied Christmas present, was designed to promote local businesses during the busiest shopping season of the year. Beginning December 1, a new window was opened every day, revealing the logo of a different city business that offered specials until Christmas.
Many companies, organisations, world leaders and famous people have produced their own Advent Calendars, so we're producing a 25 pot gift box available in October 2018.
https://www.fiddlerselbowgrease.co.uk/advent-sample-box

If all this talk of yuletide has got you in the festive mood and you can't wait, why not try some of our new Four Thieves balm? with cinnamon bark, clove, white camphor, lemon and orange oils, it's got a lovely hint of Christmas about it. You can find it in the Original Balms range - click here for more details:

Alternatively, all balm varieties are now available as single samples to try! - click here:

Don't forget, we do offer a gift wrapping service to add that special touch to all your Fiddler's purchases: